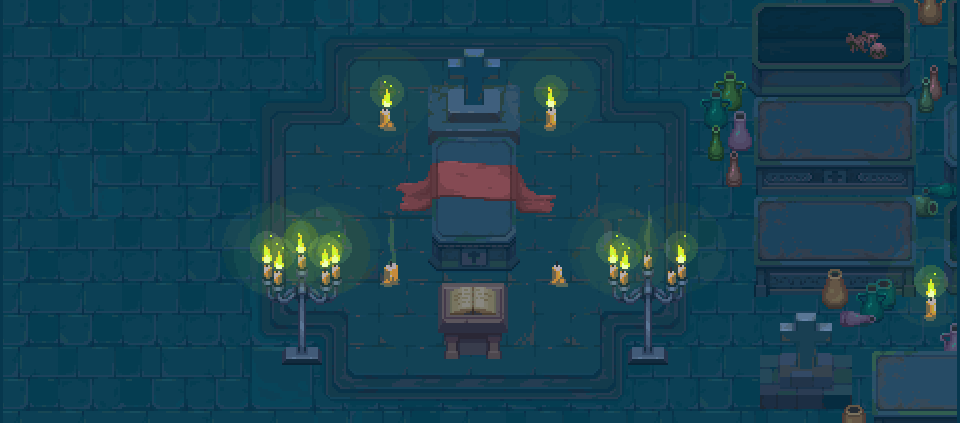 Epic RPG World Pack - Crypt
A downloadable asset pack
Get this asset pack and 2 more for $35.10 USD
View bundle
🏁 'EPIC RPG World - Crypt' This asset allows you to create an awesome top-down RPG World(32x32). There are a good range of terrains and props variety. See bellow some of the asset content:


Please, consider rating this asset as It helps a lot.

🌒TERRAIN
✅ Several terrains variations with dozens of blending possibilities.
✅ Auto-tiling support using Tiled Map Editor . It's already setup and ready to use.
✅ All terrains are provided in 2 different formats, one for direct transition to another tile, and the other for transparency transition. The last one is for users willing to get more terrain transitions possibilities using layers inside your game engine.
🌒PROPS / DECORATION / TRAPS

✅ Animated doors(metal and wood) with 5 different door frame designs(normal opening and closing animations and with teleport effect for level transition)
✅ Animated Spike traps
✅ Animated Pit traps
✅ Animated Projectile launchers (Statue, wall whole and a device firing fireballs, arrows and more)
✅ Animated Saw trap
✅ Coffins
✅ Skeleton parts
✅ Animated Candles (lit and smoking)
✅ Animated Torches (lit and smoking)
✅ Banners
✅ Bench
✅ Statues and supports
✅ Ornamental pots, decorative books and more
🌒CHARACTERS
✅ Big Worm with 3 design variations, each with 2 colors schemes. A total of 6 variations. Animations: Idle, Idle2, Attack, Retreat, Hurt, Death
✅ Skeleton with 2 colors schemes. Animations: Idle, Walk, Attack, Hurt, Death
✅ Spider with 2 colors schemes. Animations: Idle, Walk, Attack, Hurt, Death

🌒FUTURE ROADMAP
➥ 2 or 3 Enemies with Idle, Walk, Attack, Hurt and Death animations ✔
➥ Sideways doors
➥ Animated doors ✔
➥ Finish the Auto-tile ✔
➥ Auto-tile Improvements (automatically erase previously generated tiles and place the new ones in the area of drawing. Also supports variations, no manually placing them anymore!) and Tiled 1.9+ support (ETA : Feb/March)


* This list is not set in stone. I'm always open for suggestions. Feel free to leave a request in the comments.
🌒FUTURE ROADMAP FOR THE 'EPIC RPG WORLD' SERIES
➥ Grass Land
➥ Cemetery
➥ Crypt ✔
➥ Ancient Ruins
➥ Sewers
➥ Old Prison
➥ The Depths of the Fortress
➥ The Great Citadel

Extra packs (requests) ⏳
➥ Lava/Volcanic area
➥ The Village
➥ Mountainous area (Asian style)
➥ Desert

*These themes are subjected to change based on people's feedback.
✍️ ABOUT THE LICENSE
➥This asset pack is free for personal and commercial use in your project (NFT's are not alowed)
➥ You can not use this asset as database for AI training.
➥You may modify the asset at your wish for your project.
➥You can not repackage, redistribute or resell the assets, modified or not.
➥Credit is not needed but much appreciated.
(if you have any question or need a custom license, feel free to contact me)
❤️ SUPPORT
Your support helps in the development of this asset and all future assets of this series.



Please, consider rating this asset as It helps a lot.
👋 CONTACT
E-mail: rafa.pixell@gmail.com
*To make a REQUEST💬, post a comment on this page or via Discord.
❤️ Thank you for downloading EPIC RPG World - Crypt❤️
➥ If you've purchased this asset, please, rate this asset and follow me here on itch, It helps a lot. Would also be great to hear from you on my twitter. Share this page and mention @RafaRPM_ there so I can get a notification about your tweet. Thank you again!
Purchase
Get this asset pack and 2 more for $35.10 USD
View bundle
In order to download this asset pack you must purchase it at or above the minimum price of $12 USD. You will get access to the following files:
EPIC RPG World Pack - Crypt V.1.3.rar
7 MB
EPIC RPG World Pack - Crypt V.1.3.zip
7 MB